Zip-line is the brand new attraction of Mostar that was created by MTBA with the funding of the ministry of tourism. It provides the mixture between adventure tourism and sightseeing in a way unimaginable to most of the tourist that come to see the wonders of Herzegovina. The zip-line is considered one of the longest in the world as it spans from Forica to the tops of Stolac. The sights that are visible through it are astonishing because the altitude and the speed of the line and the feeling of the ride is unreal at times. Currently, the last testing is being held and the opening is planned mid-June. The line spans for an incredible 570 meters and the runs of the zip-line are even scheduled to go during the night to provide the best sight for the tourists that came to see all the beauties that Mostar, alongside all of Herzegovina, has.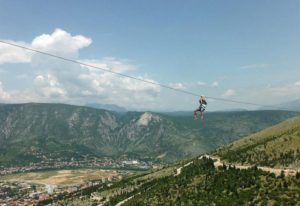 This attraction is scheduled to cost around 10 euros per run, which is a relative small price for those willing to experience all the wonders that Herzegovina has to offer. After the descent, the adrenalin adventurers can take a break from the excitements and take a break while exploring the Italian bunkers from World War 2.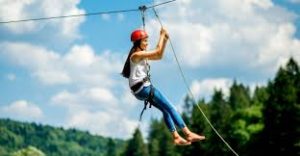 As for the transportation back, there are vehicles scheduled to take the adventurers back to the starting locations, perhaps for another run through the Mostar new adrenalin attraction- the 570 meters zip-line.