There are many places a tourist cannot miss when visiting Herzegovina, most of which are a natural wonder of sorts. Some of these places are:
The waterfall of Kravice- a waterfall 28 meters high located near the city of Ljubuški provides the observing eye unforgettable view of the several divided waterfalls of the river Trebižat( the river itself changes 8 names-Culuša – Ričina – Suvaja – Matica – Vrljika  – Tihaljina – Mlade – Trebižat- as it submerges and re-emerges from the limey ground on which almost entirety of Hercegovina lies upon) and gives a sense of satisfaction to all visitors.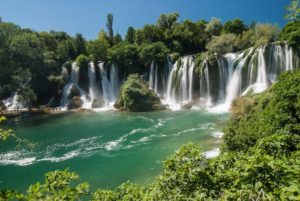 Međugorje- a small place in Herzegovina most famous by its story of the apparition of Virgin Mary to a handful of shepherd children in 1981. Today it hosts a large group of people attending masses and it serves as a place of pilgrimage to people from Italy and Spain to Japan. Many people gather there to climb the hill in which the apparition was visible to the children and many people claim to this day that they either got healed from being in the area or that they themselves have caught a glimpse of what those children saw that fateful day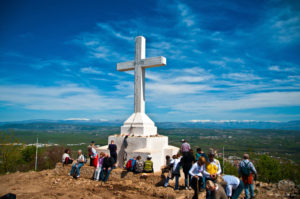 Počitelj- a place located near the city of Čapljina most famous for both Bosnian (the fort) and Ottoman (mosques) heritage that left this little community filled with sights of medieval architecture with a rare influence from both Europe and Middle East. This small location was a place in which both cultures spread their influence and created unimaginable pieces of art that are rarely found in the Balkan area.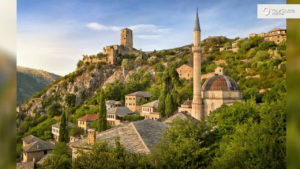 Blagaj- a location placed above the spring of river Buna, which is the biggest lime spring in the entire Europe, is a place filled with architecture sights such as Blagaj's fort from 15th century and old dervish tekija ( a kind of mosque).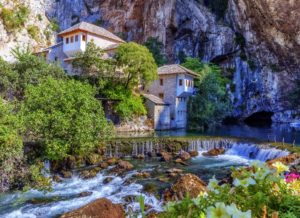 Trebinje- a location in Herzegovina that has been populated from paleolit (stone age) and it is crowded with interesting things and sights as it resembles the Croatian city of Dubrovnik (many people call it mini Dubrovnik) but is quite cheaper and more accessible during the summer season.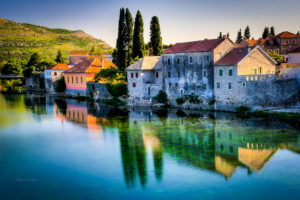 Park Blidinje- a nature's park with a distinctive geographical shape serves as Herzegovinian reserve of flora and fauna, as it contains endemic plants and endangered species of animals. It is also place of winter tourism, as it includes a skiing slope, and is a place with rich history which is presented through necropolis which is even listed on UNESCO's list of world heritage sites.
Konjic- a city located on the way from southern Herzegovina to Sarajevo, and it is a place that is a must-see, with the sight of "stećci" a medieval tombstones going back from 12-13th century as well as recent buildings such as Tito's bunker, which was a strongly held secret until late 80's.
Čapljina- a city(named after bird-čaplja/heron) in the southern part of Herzegovina on the right bank of Neretva, it is a place once called the most beautiful city in Yugoslavia and still a place where many people go to view the nature's wonders. Near the city are the ruins of the roman settlement of Mogorjelo- a place filled with intriguing history.
Hutovo blato- a nature and bird reserve located near Čapljina is a swamp filled with nature life which includes a handful of indigenous types of flora and fauna (herons, hawks, wild horses, boars, geese and many, many other species that are usually connected with this area)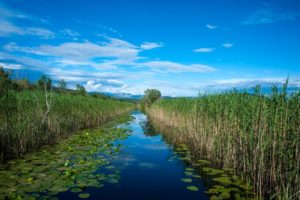 All of these places have the same themes; all of them are bound with a common idea that they themselves are an unique piece of land that could not be find anywhere else in the world and present all their beauties in the best possible way.